...

6/30/2000
Arizona Hires Assistant Women's Gymnastics Coach

The University of Arizona women's gymnastics program has filled its final staff position, announced head coach Bill Ryden. [continued]

4/17/2000
Arizona's Heidi Hornbeek Wins American Award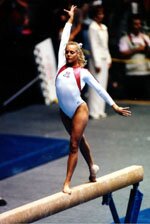 Arizona senior Heidi Hornbeek was named the winner of the AAI American Award, honoring the top senior gymnast in the nation for excellence in academics and athletics. The American Award, sponsored by American Athletic Incorporated, is voted on by gymnastics coaches throughout the nation, and Hornbeek's honor marks the first time an Arizona gymnast has won the award. [continued]

6/30/2000
Arizona Gymanstics 2000 Review


Season Review (PDF File)
Although the 2000 Arizona women's gymnastics team experienced a great deal of adversity and was plagued by injuries, the team made its 14th-consecutive trip to the postseason. Arizona (7-19 overall, 1-5 Pac-10) closed out the year ranked 20th in the nation after finishing fourth at the NCAA Region III Championships. [continued]


...