...

8.14.1999
Head Coach Bill Ryden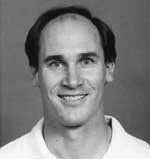 Second Year
Arizona State University
B.S.E.Aerospace Engineering 83
Arizona head coach Bill Ryden, known as one of the nation's premiere spotters, concluded his first season at the helm of the Wildcat program with an impressive 14-10-1 record and a third-place finish at the NCAA Region III Championships. After a difficult start, Ryden and the team came back to score crucial upset victories over top-25 teams Oregon State, Washington, Nebraska, Florida, Stanford, Oklahoma and Arizona State to qualify for the regional championships, where the Cats made their 13th-consecutive postseason appearance.
"After such a rough start in the beginning of the season, I'm very proud of the way our team came back," Ryden said.
In Ryden's first year as a head coach, Arizona set a record-breaking team total of 196.300 against Arizona State in the last meet of the regular season, and his 1999 team also posted four event scores that rank in the top five on the UA's all-time top-10 performance list. The Wildcats broke the all-time beam record with a new season-high 49.175 against Arizona State, and the UA scored a 49.375 on bars, the third-highest bars score in UA gymnastics history. At the Pac-10 Championships, Ryden's team scored an impressive season-high score of 49.025 on vault that tied the No. 5 score on the all-time list, and against Utah, the Wildcats scored a season-high 49.150 on floor, which tied the No. 4 mark on the all-time performance list.
"The team never gave up, and the gymnasts fought through a lot all season. We are a good program, and we will be back next year with virtually the same team," Ryden said. "We are already working on different skills, and we know where we need to improve. This season was definitely a growing pains year, and considering where we started at the beginning of the year, finishing 20th gives us even more to work for next season."
Ryden, long considered one of the top assistant coaches in the country, is certainly no stranger to Arizona gymnastics. Ryden entered his first season as head coach after spending the previous eight years coaching alongside former head coach Jim Gault, who retired following the 1998 season. During his tenure as Arizona's top assistant coach, Ryden was named Midwest Region Assistant Coach of the Year in 1992 and was a member of the USA World University Games Coaching Staff in 1993.
Ryden has coached in various capacities, both nationally and internationally for more than 15 years. He served as a USA national team coach in 1989, and from 1988 through 1990, he was head coach at Ryden Gymnastics in Littleton, Colo. From 1984 to 1988, he was a Class I/Elite coach at the Denver School of Gymnastics, and prior to this, in 1983, he was the head coach of the Arizona Twisters in Mesa, Ariz, where he coached former Arizona standout Diane Monty and former Wildcats Andrea Walters and Nancy Milberger during their club gymnastics career.
Not surprising, given his coaching proficiency, Ryden has an impressive background as a gymnast himself. He competed both nationally and internationally for Arizona State University from 1978 to 1983 where he was a three-year letterwinner, and during his senior year, Ryden was ranked second in the nation on the horizontal bar.
Ryden earned a B.S.E. in aerospace engineering from Arizona State University in 1983. He worked as a Senior Engineer at Martin Marietta Denver Aerospace in 1984 to 1990 conducting analysis on ICBM missiles and developing proprietary software systems among other tasks. He has further studies in biomechanics, anatomy and physiology, sports psychology and computer software systems, and he currently is pursuing an MBA.