...

8/14/2000
Nduwimana Sets School 800m Record... Again


The University of Arizona's Patrick Nduwimana shaved more time off his school record 800 meter time last Friday in a phenomenal field of runners at the Weltklasse o Zurich in Switzerland. [continued]

7/17/2000
Arizona Track and Field Hires Frazier as Throws Coach

The University of Arizona has hired Florida assistant coach John Frazier as an assistant track and field coach. The former three-time All-American as an athlete will coach the Wildcats' throwers, replacing Mike Maynard who left to become the head coach at Boise State. [continued]

7/13/2000
Track Coach Fred Harvey's Daily Diary From the U.S. Olympic Trials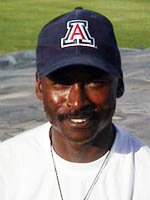 Arizona Track & Field Coach Fred Harvey will be writing a daily diary for arizcats.com from the U.S. Olympic Trials. Throughout the next week, Harvey will share some of his thoughts, as well as the ups and downs of the Arizona contingent at the meet. Check back daily for updates. [continued]



...