7.10.2000
Glenn Sets UA Long Jump Mark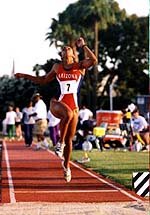 University of Arizona junior-to-be Brianna Glenn had about as good of an Olympic Trial warm-up as possible Saturday in Flagstaff, Ariz. She finished second in the long jump behind New Zealand's Shantel Bruner with a school record jump of 21 feet, 10 inches (6.65m).

"She just had a lot of things come together for her," UA associate head coach Fred Harvey said. "She is still using the same (short) approach that she had during the season, but she just started to get some things going that she had not before. She is not there yet, but she is closer."

Glenn had two longer jumps on her fourth and fifth attempts, but they were just foul on the board. On her sixth attempt, however, Glenn nailed the school record jump.

She held the previous record of 21-2 (6.47m) May 6 at the UA-Arizona State-Northern Arizona dual meet in Tucson. Before that, Carole Jones held the record, 20-10 (6.36m), which she set in 1987.

Glenn will be one of several Arizona athletes competing in the U.S. Olympic Trials July 14-23. She will run the 100m compete in the long jump, which both start Friday.