2.18.2000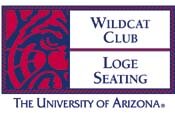 LOGE SEATING
When the Arizona Wildcats kick off the football season, you can feel the excitement from arguably the best seats in Arizona Stadium - the Loge Seating area.

The excitement begins once you arrive at Arizona Stadium, park your car in a lot reserved especially for Loge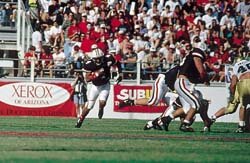 seating customers and take the elevator to your seat on your specified Loge Level. Prior to the game, enjoy an extravagant buffet with other Wildcat Club fans. Enjoy complimentary beverages and popcorn during the game while closed circuit television monitors replay the action on the field.
An additional benefit of Loge Seating is the option to purchase men's basketball tickets in McKale Center for the upcoming season. Although McKale Center has been sold out for many years, specific seating areas are available through the purchase of Loge football seats.
For more information on how you might purchase Loge Seating, please contact The Wildcat Club Ticket Office at .