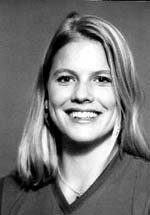 Dawn Mortensen
Assistant Coach
Sprints - Hurdles
3rd Year
Dawn Mortensen, a former sprinter for the Wildcats, joined the Arizona coaching staff in the fall of 1997 and assists in the training of the sprinters and hurdlers. Mortensen, 26, graduated from Arizona in the summer of 1996 with a degree in exercise and sports sciences and was a four-year competitor for Dave Murray in the 100m and 200m.
Mortensen worked two years ago as a personal trainer at a local health club. She was also a volunteer assistant coach with the Wildcat program under the direction of associate head coach Fred Harvey.
As an athlete at Arizona, Mortensen was one of the Wildcats' top sprinters in 1993-96. She has the fifth-fastest 100m time in school history, 11.77, which she ran at the Jim Click Wildcat Shootout in 1996. Mortensen's time of 24.33 in the 200m at the Pac-10 Championships in Seattle in May 1995 is the No. 11 time in school history. She was a team captain her junior year for the Wildcats.
Mortensen won the Mary P. Roby Academic Award for excellence and was also named to the Academic All-Pac-10 team during her career at Arizona.
During her high school days at Santa Rita H.S. in Tucson, Ariz., where she earned four letters in both track and field and cross country, Mortensen was an all-state performer in the 400m during her final three years.
Mortensen was born May 24, 1973 in Tucson and is currently single.