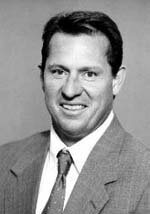 Tom Hays
Assistant Coach
Jumps - Pole Vault
Third Year
The University of Arizona track and field coaching staff has an advantage over many school with the experience of a renowned vault and jumps coach on its staff. Tom Hays came to Arizona before the 1998 season after seven years at Wichita State University in Kansas
In two years at Arizona, Hays has helped his pole vaulters earn three All-America honors, and one of his jumpers earned All-America accolades. Last year, Jeff Dutoit earned NCAA Indoor and Outdoor All-America honors under the direction of Hays.
At the NCAA Indoor Championships, Dutoit cleared 18-2 and finished third, a new personal best that tied the indoor school record set in 1998 by Dominic Johnson. Dutoit later finished tied for seventh at the NCAA Outdoor Championships.
Hays work with the Arizona jumpers has also payed dividends in the past two years. Brianna Glenn finished fourth in both the long and triple jumps at the Pac-10 Championships as a freshman last year. TaKisha Morgan improved her triple jump best by almost a foot during her sophomore season last year.
In Hays' first year at Arizona, senior Dominic Johnson set school records in both the indoor and outdoor pole vault. Johnson, who competed at the NCAA Championships, cleared 18-6 to set the new school outdoor mark at the 1998 Drake Relays.
While at Wichita State, Hays coached Phil Holden to the Missouri Valley Conference pole vault title in 1993, as well as Angela Isaac to the indoor long jump and outdoor triple jump titles. Also while coaching the Shockers, Ryan Barkdull acheived All-American status and finished second at the NCAA Outdoor Championships in 1996 under Hays' tutelage.
Barkdull and fellow Olympic hopeful Eric Boxley currently train with Hays in Tucson.
Hays came to Wichita State from Nevada-Reno, where he was the assistant track and cross country coach in 1990. Prior to his stint at UNR, Hays was the head jump coach and assistant cross country coach at Johnson Community College in 1988-89, and was an assistant with the Kansas women's program in 1988.
At Johnson Community College, Hays coached the national champion in the pole vault, and guided the national runner-up in the long and high jump. At UNR, Hays coached three national qualifiers in the triple jump, while fielding the top jump program in the Big Sky Conference.
A native of McLouth, Kan., Hays earned a B.A. in physical education from Kansas in 1989. While at Kansas, he was a six-time All-Big Eight Conference pole vaulter. He ans his wife, Rebecca, have four children - Amanda, Ryan, Kevin and Kara.