8.15.1999
Head Coach Dave Rubio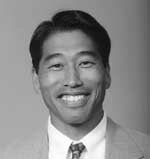 In seven years as Arizona's head coach, David Rubio has taken the Cats to the brink of being a perennial national power.
Rubio inherited a team that went winless in the league the year before he arrived and has turned it into a club that's made five postseason appearances in six years, winning six NCAA Tournament matches in that span.
Rubio's coached eight All-Pac-10 performers at Arizona, five All-Pac-10 freshman players and eight academic all-conference athletes. Also, Arizona athletes have earned seven Pac-10 Player of the Week honors under Rubio. And, in 1993, Rubio helped Barb Bell earn freshman All-America honors.
In seven years, Rubio has led Arizona to 123 victories and a winning league mark over the last six seasons. This year's season opener at UTEP will mark Rubio's 200th match as head coach of the Wildcats.
Last year may have seen Rubio's greatest achievements yet at Arizona. Taking a club with just one returning starter and featuring six freshmen, most of whom saw significant playing time, Rubio led the team to its most victories, 22, since 1982. The Cats went 12-6 in league play and their fourth-place Pac-10 finish was its best ever. Middle blockers Marisa DaLee and Keisha Johnson Demps earned All-Pac-10 accolades, giving the Cats four first-team honorees in two years. Setter Dana Burkholder was also named to the league's All-Freshman squad. Arizona fell to eventual national champion Long Beach State in the second round of the NCAA Tournament.
The previous year, the Cats had also exceeded all expectations, matching their then-best-ever finish in Pac-10 play, tying for fourth with a 12-6 mark. They went 20-6 in the regular season and were ranked in the top 10 throughout November. For just the second time, Arizona had a pair of athletes, Erin Aldrich and Carolyn Penfield, earn All-Pac-10 honors.
In 1996, the Cats raced to their best-ever start, defeating their first nine opponents. UA also posted its first-ever season sweep of UCLA en route to a fifth-place Pac-10 finish. The Cats returned to the NCAA Tournament after a one-year absence and defeated San Diego, becoming the only team to win a first-round road match. For the second-straight season, Wildcats earned All-Pac-10 (Bell) and All-Pac-10 Freshman (Aldrich) honors.
In 1995, Arizona started off by winning eight of its first 10 matches as UA swept the Wildcat Classic, Hotel Park tournament and the Ohio State Invitational. The Cats rose to 12th in the USA Today/AVCA polls before losing their final six matches. Arizona finished 14-14, but Bell and Keisha Johnson were named to the All-Pac-10 and All-Freshman Pac-10 teams, respectively.
The 1994 season marked the second consecutive year in which Rubio's Cats reached the NCAA Regionals. The team won six of its last eight matches to secure a spot in postseason play, then proceeded to knock off eighth-ranked Brigham Young in Provo, Utah, as the 16th-ranked Cats reached the sweet sixteen.
In Rubio's second season with the Wildcats, he guided them to a 20-11 record and Arizona's best-ever conference finish, placing fourth in Pac-10 play. The '93 season also saw the Cats return to postseason play for the first time since 1989. They reached the NCAA West Regional following first- and second-round victories over Lamar and Arizona State. For his efforts, Rubio was honored as the American Volleyball Coaches Association West Region Coach of the Year.
In 1992, Rubio's first season at Arizona, the Cats experienced some growing pains, finishing 10-17 and posting a 4-14 mark in Pac-10 play. Not outstanding figures, but a definite improvement on the 0-18 conference mark of the year before.
Rubio had already established himself as one of the great young talents of the volleyball coaching field before arriving at Arizona. He came to Tucson from Cal State Bakersfield where he had developed one of the nation's winningest Division II programs. In five seasons, he coached seven All-Americans, led the Roadrunners to three consecutive top-five finishes and won the 1989 national championship.
Rubio's five-year stint at Bakersfield also began as a rebuilding situation. In 1987, he inherited a club that finished the 1986 season with a 6-23 record and a 1-11 California Collegiate Athletic Conference record. Within two years, Rubio provided Bakersfield with its best record in school history and its first winning mark in the CCAA. After winning the 1989 national title, the Roadrunners won a school-record 31 matches the following season, and, in 1991, he led Bakersfield to its first CCAA championship.
Individually, Rubio was honored as the ASICS Tiger Coach of the Year in 1989 and in 1991 was honored as the CCAA Coach of the Year.
Rubio served as an assistant coach for Cal State Northridge's men's team in 1983 and then for the women's team in 1985, helping them win a national championship.
Rubio began his coaching career in 1978 as the boys' coach at Granada Hills High School. He spent time as an assistant at Pierce College before taking the Chatsworth High School girls' team to the league championship in 1982. Prior to his arrival at Bakersfield, Rubio spent four years as coach of the women's team at Westlake High School.
As a player, Rubio was an all-conference and all-state volleyball selection at Cal State Northridge. A volleyball clinician and grass-tournament entrepreneur, he is highly recognized for his extensive community involvement.
Rubio graduated from Cal State Northridge in 1982 with a B.A. in physical education. He was born on June 20, 1959, and is single.