8.15.1999
Head Coach Rick LaRose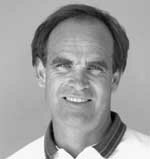 Director of Golf
22nd Year
Rick LaRose, director of golf and head coach of Arizona men's golf teams, has established the Wildcat golf program as one of the nation's best. The only coach in collegiate history to win both a men's and women's NCAA golf title, he has consistently produced winning programs and individual golfers who have been among the country's elite.
Now in his 19th season as the Wildcats' head man, he began coaching at the UA in 1973 as the head coach of the water polo team and swimming coach. He has coached four different teams at the University of Arizona during his tenure, and all four of these programs have been ranked in the top-five nationally, while producing All-American athletes on all fronts.
Prior to taking over the golf program in 1978, he guided the UA water polo team to four NCAA regional championships and three fifth place finishes in the NCAA Championships. His teams were never ranked out of the top-sox nationally and they had five All-American performers and one United States Olympian. His record as water polo coach was 154-37-2. As the Wildcat swimming coach, he helped guide six U.S. Olympian swimmers, 20 All-Americans and one national champion. Since taking over the golf program in 1978, his teams have been ranked in the top-20 in 19 of the seasons and there was a string of 12 consecutive years that the Cats were ranked in the top-five nationally. Further, the team has been the nation's No. 1 team 13 different times, most recently during the 1997-98 campaign when it was ranked No. 1 for the majority of the season.
When he had the double-duty as the head coach for both the Arizona men's and women's programs (1996-98), he coached the women to the 1996 NCAA title and each squad was ranked No. 1 during those seasons. He also had a hand in coaching two-time NCAA Women's Golfer of the Year and 1996 national champion, Marisa Baena.
LaRose's teams have won two NCAA titles (1992 men's/1996 women's) , six NCAA regional championships, five Pac-10 crowns and two Rolex Match Play titles. In addition to being the only coach in college golf to coach both a men's and women's NCAA championship team, he is also the only one to produce both a men's and women's Rolex Match Play and Pac-10 title team. His finishes at the NCAAs not only include the 1992 men's and 1996 women's titles, but three third places, a fifth place and two sixth places.
Since 1978, LaRose's golf teams have won 40 men's tournaments and 17 women's tourneys. He has also produced five national player of the years, seven Pac-10 Players of the Year, 53 All-Americans and 74 All-Pac-10 Conference performers. On the national front, he has had a hand in coaching a United States Amateur winner (and three runner-ups), four United States Walker Cup players, a pair of Ryder Cup golfers, a U.S. President's Cup performer and three United States Publinx champions. Thirteen of his pupils have also represented the U.S. in international collegiate competition.
His guidance has left a mark on the University of Arizona Sports Hall of Fame, as 14 individuals from his water polo, swimming and golf teams have been inducted, as well as his 1992 and 1996 national championship golf squads.
His players have also left their mark on the professional tours, with such players as Jim Furyk, Robert Gamez, Mike Springer, Larry Silveira, Manny Zerman, David Berganio and most recently Rory Sabbatini carrying on the UA golf tradition in the pro ranks.
His athletes have also excelled in the classroom, as there have been 10 All-American scholars, a Rhodes Scholar, a Walter Beyers NCAA Post Graduate Scholarship winner, seven Top Student-Athlete of the Year selections at the UA, and a graduation rate of over 80%. He has also produced two Honda Award winners, as Baena won the 1996 and 1997 awards, which signified the Athlete of the Year in women's golf.
Not only his players, but LaRose as well has won numerous awards. The 1992 Golfweek Men's NCAA Coach of the Year, he received the same honor for the women in 1996 following their NCAA title. He has also been the NCAA District VIII Men's Golf Coach of the Year twice and the Pac-10 Conference Coach of the Year four times (three for men & one for women). He won the 1977 Coach of the Year award for water polo and was a four-time NCAA District VII Water Polo Coach of the Year.
LaRose is a native of Delmar, N.Y., and he graduated from Bethlehem Cental High School where he was a letterwinner in swimming, baseball and golf. He went on the attend Brockport State University in Brockport, N.Y., with a bachelor of science degree. He was a three-time NCAA All-American swimmer there, swimming the backstroke, freestyle and individual medley. An all-around athlete, he won three SUNY Conference swimming titles as well as the 1967 New York Collegiate Golf championship and was a member of the 1966 SUNY Conference cross country title team. He has since been inducted into the Brockport Athletic Hall of Fame
After his time at Brockport State, he completed graduate work at UC-Irvine and the University of Arizona where he graduated with a masters in education. He was selected to Who's Who in American Colleges and Universities and was a member of Phi Delta Kappa. While at the UA, he has taught physical education and supervised student teachers in the college of education. Prior to his days in Tucson, he taught elementary, junior high and high school in Tustin, Calif and it was there where he got his start in coaching swimming, water polo, baseball and basketball. His Tustin High School and Fountain High School water polo teams were always among the best in Southern California, producing 10 All-Americans and five CIF champions. He was also the head coach of the Southern California Aquatic Club with his teams placing in the top-10 at both the AAU Short Course and Long Course Championships.
He later played professional fastpitch softball for the Tucson Rattlers of the American Professional League, which won the World Championship in 1976. He has played in three ISC World Championships and was selected an ASA and ISC All State player.
An acclaimed golfer as well, he has qualified for and played in the United State Amateur Championship and the United States Mid-Amateur Championship. A member of the Arizona Golf Association's Goldwater Cup team, he won the 1996, 97 and 98 Dogwood Invitational Senior Amateur titles as well as the 1998 Porter Cup Senior Amateur championship.
A member of the Arizona Golf Association's Board of Directors, he also serves on numerous other advisory boards and golf associations throughout the country. Locally, for all his work with the UA and in the Tucson community, the Tucson Conquistadores have honored him three times with their Sports Achievement Award.
Upon taking over the UA golf program in 1978, he formed the University of Arizona Eagle Club, which is a booster organization for Wildcat golf. Through this group, the Wildcat Golf Tournament is held each year as a fundraiser for Arizona golf. With the help of its corporate sponsors Pepsi and Golden Eagle Distributing the tournament has become on of the finest of its kind and since its inception, it has raised over $1.25 million for the UA golf program.