...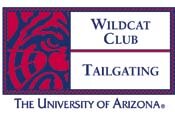 TAILGATING
Tailgating has become such a tradition in recent years that a stroll through the tailgate area is almost a necessity to fully experience Arizona football. Tailgates are utilized by individuals to entertain small groups of friends and also by large companies to reward employees or entertain corporate partners, clients and associates.

The Wildcat Club Tailgate program offers a wide range of options - from individual vehicular tailgate passes on a game or season basis, to large scale corporate packages for 25 to 500 guests. These packages can also include catering, tent, tables, chairs, fencing, entertainment and game tickets.

For more information on Wildcat Tailgating, please contact The Wildcat Club Ticket Office at (preferably prior to August 1 for the upcoming football season).