...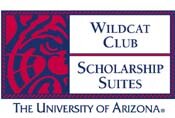 SCHOLARSHIP SUITES
The Scholarship Suites at Arizona Stadium are among the most luxurious in America. For you, your friends, or your organization, the suites offer an extraordinary view of Arizona football. The Scholarship Suites are a partnership
between the UA and the Department of Intercollegiate Athletics. All revenue generated from the Scholarship Suites and the Loge seating areas is shared by the UA General Scholarship Fund and the Wildcat Club Scholarship Fund.

Each of the 22 Scholarship Suites offers 12 theater-style seats. The floor-to-ceiling glass provides an uninterrupted and spectacular view of the field and, to the north, the Catalina Mountains. Spacious and generously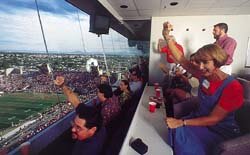 furnished, each suite includes a food and beverage center, running water, refrigerator and professional interior decoration. The suites also offer an exclusive sound system that allows suiteholders to access Arizona Stadium's public address system, radio, and television broadcasts.
For more information on how you might purchase Scholarship Suites, please contact the UA at or the Wildcat Club Ticket Office at .