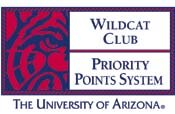 PRIORITY POINT SYSTEM
In 1990, the Wildcat Club Priority Point System was created to supplement the priority seating program. The point system was established to reward loyal Wildcat fans for years of season ticket purchases and for past and present contributions to our athletic programs. The point system is used to determine seating location assignments for new Wildcat Club members, seating location upgrades for current members, the allocation of single-game ticket requests for home and away games, and for post-season events such as the NCAA Basketball Tournament and football bowl games.

For more information on the Wildcat Club Priority Point System, please contact the Wildcat Club Ticket Office at .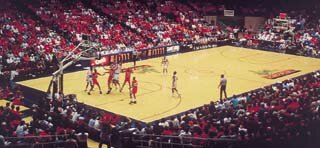 How does the Priority Point System work?
Points are awarded accordingly:
Years
2 points for every year as a Season Ticket Holder (Football beginning 1946, Basketball 1972)

2 points for every year of charitable giving since 1985, (non-priority seating, minimum $100)

1 point for every year of priority seating contributions

Contributions
2 points for every $100 of charitable gifts since 1985 (non-priority seating)

2 points for every $100 of accumulated cash value on an insurance policy through the Captains Club; other gifts-points awarded on a case-by-case basis

1 point for every $100 given for purchase of priority seating

1 point for every $100 given for purchase of a Suite or Loge seating (excluding season ticket costs)

1/2 point for every $100 given for a Corporate Sponsorship package ($5000/yr. minimum)

Fixed Points
25 points for Captains Club membership (maximum of 25 points per membership)

10 points for lettering in a varsity sport at The University of Arizona (maximum of 20 points per membership, can include spouse)

5 points for UA Presidents Club membership (maximum of 5 points per membership)

5 points for University of Arizona Alumnus/Alumna (maximum of 10 points per membership, can include spouse)