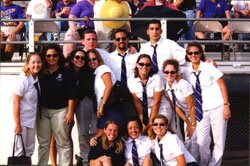 Arizona Allegiance
"Committed to the spirit of the University of Arizona"
Arizona Allegiance is recognized by the University of Arizona Department of Intercollegiate Athletics as its official Spirit Club. The club is comprised of individuals dedicated to supporting Arizona Athletics, its sports programs and departmental special events.
Arizona Allegiance is committed to the spirit of the University of Arizona, and in such: provides service to the university and enhancement of school spirit in general; provides fellowship among students and sports teams; and, maintains the spirit traditions of the U of A.
In its tradition, Arizona Allegiance creates the halftime banner for every home football game, participates in annual Athletics Department special events, the Dick Tomey Pony Express, pre-game and halftime promotions, tailgates before football games, social events, and fundraisers.