10.19.1999
1999 Hall of Fame Banquet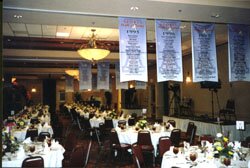 The University of Arizona Sports Hall of Fame induction banquet on September 10, 1999 was a special evening for our guests and our most recent inductees. In attendance were current Sports Hall of Fame members - Gayle Hopkins, Mary Roby, Leah Braatz, Betty Barber, and Dick Clausen as well as UA coaches, administrators, and Wildcat fans. The induction banquet is a chance for Arizona Athletics to recognize some of its greatest former student-athletes for their contribution to Arizona Athletics. The evening captured the essence of Arizona Athletics and the incredible impact that being a Wildcat student-athlete has on the lives of all our athletes.

The ceremony began by honoring Michael Bates, a track & field and football player for UA from 1989-92. He was represented by his mother Linda. She spoke warmly to the crowd about the accomplishments of her son and how honored she felt to accept the Hall of Fame Award in his absence:

"It is a great pleasure to be able to stand in front of a group of people and tell you how proud I am of my son."
Each honoree's award was preceded by an induction video that captured championship moments from his or her collegiate career, pro career, and/or Olympic games. Videos showed Susie Parra throwing strike after strike after strike with nothing but gutts and power; Max Zendejas kicking winning field goals in last second victories; Tanya Hughes Jones clearing high jump bars with grace and ease; and Leta Lindley and Annika Sorenstam sinking winning putts.
Of the most memorable videos was that of Rick DeMont, swimming 1977-79. The video captured his Olympic games experience as a sixteen year old boy whose innocent eyes and smile showed the pure joy of having won an Olympic Gold medal. After the video, Rick Demont became choked up and had to stop several times so he could continue with his speech. In the end, he thanked his daughter, "I just want my daughter to know how proud I am to be her dad."
Honorees stepped up to the podium to share anecdotes and special memories from the time when they were Wildcat student-athletes.
Julieann "J.C." Broughton Barr, track & field 1990-94, expressed her gratitude to her coaches and teammates. She thanked former teammate Tanya Hughes, track & field 1991-94: "It was a great experience to compete with and against Tanya. Tanya was always able to demonstrate how to win and lose with grace."
Susie Parra, softball 1991-94, thanked her team as she expressed that without them, she would not have been such a great success. She also thanked coach Mike Candrea, who was in attendance, for being a father figure and creating a family atmosphere for his team.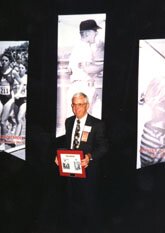 Brenda Skeeuwnhoek, cross country/track & field 1991-94, traveled all the way from the Stolwyk, Holland, along with 20 of her friends and family, to attend the banquet. She shared her pleasure in having spent 4 years as a Wildcat student-athlete and having chosen Tucson, Arizona and the University of Arizona as a home for those years.
Craig Sorensen, baseball 1955-57, shared a story about the early days of his playing career at Arizona. He did not start out on scholarship, so he had to take on an extra job. One day, he was late for batting practice because he could not leave work: "Pop McKale asked me why I was late and I told him - 'because I was working'. After that, Pop McKale was able to get me a scholarship. There happened to be an extra track scholarship available. I was never late for practice again," Craig said.
Max Zendajas ended the evening with a humorous story about his professional career. He kept the crowd laughing as he expressed how he had found himself playing in the dreaded cold of Greenbay, Wisconsin - a place, in his wildest dreams, he had never imagined playing.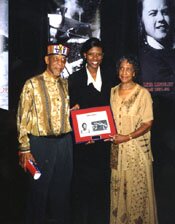 The never ending success of these honorees created a great sense of Wildcat pride. Their history will forever impact the tradition of Arizona Athletics.
If you are interested in next year's Sports Hall of Fame banquet, it is traditionally held the Friday before the 1st home football game. Next year's banquet date is tentatively reserved for Friday, September 8, 2000.