...

10.19.1999
1998 Academic Highlights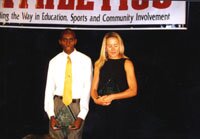 The Mary Roby Academic Achievement Award
The primary function of the University of Arizona is education, and during the years it has been demonstrated that athletic accomplishment and scholastic success usually go hand in hand. The Academic Achievement Award's program has become an integral part of the University of Arizona Department of Intercollegiate Athletics tradition. The program was first established as the Golden Eagle Awards in 1977, by the late William M. Clements, who recognized the importance of a positive academic experience. The first award was presented at the UA in the spring of 1977 as a way of recognizing student-athletes who maintain high levels of scholastic achievement while performing with distinction in the University's athletic programs. Not long after, the award was renamed the Mary Roby Academic Achievement Award in honor of U of A's first women director of athletics, Dr. Mary Pavlich Roby.
During the past 19 years, the Achievement Awards have been presented to more than 1,450 scholar-athletes enrolled at The University of Arizona. Several of those outstanding young people have gone on to distinguish themselves in fields such as medicine, business, law and professional sports, carrying on personal traditions of excellence embodied in the awards. This year's recipients increases that figure to over 1,620.
The award was presented during its first several years to dozens of recipients each spring who were selected by a panel of University academic and athletic administrators. In 1983, to better represent the U of A's athletes-at-large, new criteria were developed. Today, a continuing student-athlete who maintains a 3.0 or greater grade point average for two calendar semesters, spring and fall, and freshman or transfer students who maintain a 3.0 or greater GPA during their first semester, will receive the Achievement Award.
From those winners, the special recognition of Distinguished Scholar is given to the top academic performers. Distinguished scholars are continuing student-athletes who earn a 4.0 GPA for two calendar semesters, spring and fall, and freshman or transfers who earn a 4.0 GPA during their first semester. This year 10 Arizona student-athletes were recognized as 1998 Distinguished Scholars.
The intent behind the Mary Roby Academic Achievement Award is to recognize merit and encourage every student involved in athletics to do his or her best in university coursework. The UA Athletics Department wants its students to know it has tremendous pride in the accomplishments of the award winners and recognizes their efforts as the highest ideal in UA Athletics.
1998 Distinguished Scholar Award Winners (4.0 GPA)
Lindsay Berryman
Sophomore ~ Physiological Sciences
Diving
Hometown: Scottsdale, AZ
Lindsay Compitello
Freshman ~ Dance
Gymnastics
Hometown: Downington, PA
Christopher Forwood
Senior ~ Accounting/Finance
Football
Hometown: Cheyenne, WY
Elizabeth Giltner
Junior ~ French Business
Track and Field
Hometown: Canoga Park, CA
Michelle Gough
Sophomore ~ Mathamatics
Tennis
Hometown: Johannesburg, S. Africa
Michael Mortensen
Sophomore ~ Undeclared
Track and Field
Hometown: Tempe, AR
Andrea Neary
Senior ~ Physiological Sciences
Track and Field
Hometown: Flagstaff, AR
Jari Niskala
Freshman ~ Computer Science
Tennis
Hometown: Finland
Davi Paletz
Senior ~ Molecular and Cellular Biology
Track and Field
Hometown: Tucson, AZ
Brandon Smith
Sophomore ~ Electrical Engineering
Golf
Hometown: Veradale, WA
1998 Mary Roby Academic Achievement Award Winners (3.0 GPA)
Abel, Vanessa
Acuna, Tami
Aguirre, J. Eric
Allegre, Monique
Ambrose, Joleen
Anderson, Ben
Ash, John
Autio, Jussi
Bachtell, Charlie
Baena, Cristina
Banken, Christian
Beck, Scott
Benward, Lauren
Berg, Jill
Berryman, Lindsay
Blackstock, Kelly
Blau, Lindsay
Brandt, Barbara
Brase, Julie
Brown, Alex
Brown, Steven
Buczkowska, Joanna
Bumps, Emily
Burris, Jennifer
Busch, Peter
Bynes, Andrew
Campos, Jose
Canaday, Megan
Casper, Jeff
Chaplin, Tara
Churnock, Michelle
Cline, Cara
Compitello, Lindsay
Cramer, Michael
Crawford, Michael
Cuzon, Christelle
Daniels, Jennifer
David, Adrian
Diggins, Ben
Edwards, F. Tom
Eiteljorg, Burke
Engelen, Katrin
Farella, Lindsey
Floyd, David
Forwood, Christopher
Fredericks, Peter
Giallonardo, Ann
Gil, Christine
Giltner, Elizabeth
Ginsberg, Jennifer
Glenn, Brianna
Gomric, Jill
Gough, Michelle
Griffin, Shanna
Haddix, Tyler
Heckel, Lisa
Hendricks, Jason
Henikman, Robert
Hooks, Amy
Hornbeek, Heidi
Hosack, Shannon
Huff, Kenneth
Huff, Kevin
Ingalls, Shannon
Jackson, Brian
Johnson, Dominic
Johnson, Jason
Johnson, Keisha
Jones, Micheil
Jones, Nicole
Juday, Andrew
Kaufman, Twila
Keel, Sean
Kelly, Chase
Kennedy-Weber, Keri
Kilian, Caroline
Kolbinsen, Liesl
Kreuzberger, Bryan
Krohn, Jamie
Lacoste, Jean-Noel
Lafleur, Oscar
Lamarche, Nicole
Lansa, Jonathan
Larsen, Ola
Lewis, Nathaniel
Maes, Vicki
Malloy, Brian
Maloney, Carl
Marquart, Caleb
Meyer, Michael
Micone, Jill
Miller, Jessamyn
Milo, Anthony
Monteiro, Christina
Monti, Shannon
Mortensen, Michael
Mulitalo, Edwin
Murphy, Brooke
Nash, Brandon
Neary, Andrea
Neethling, Ryk
Nelson, Erin
Nighswander-will, Kate
Niskala, Jari
Nott, Rebecca
Oliveri, Jerome
Orozco, Seth
Paletz, Davi
Palic, Christopher
Pastner, Josh
Pedersen, Brent
Peterman, Emily
Petroff-tobler, Lenora
Phears, Allison
Price, Danielle
Quijano, Sara
Rak, Daniel
Ramirez, Veronica
Register, Kristen
Reiss, Mary
Robinson, Lindsay
Rodriguez, Angelique
Rogers, Regan
Roseman, Alex
Salasca, Pascal
Schulz, Robert
Sciacca, Michael
Seronde, Sarah
Shabansky, Robert
Shefman, Amanda
Shroyer, Jason
Smith, Brandon
Smith, Keith
Smith, Steven
Stan, Brooke
Stickels, Coley
Stone, Lisha
Stopa, Michel
Swan, Katie
Taylor, Brooke
Unich, Tim
Varga, Keith
Weis, Richard
Welch, Devin
Wendler, James
Whitmore, Dale
Williamson, Cathie
Wnek, Eli
Wood, Scott
Worcester, Jarvie
Wright, Maia
Zender, Erika
Zucker, Leah

Dr. Mary Pavlich Roby
Mary Roby has been a force behind modern Arizona women's athletics since her days as a letterwoman from 1944-48. Mary began her career as an athletic administrator in 1959 and eventually became the U of A's first director of athletics for women in 1972. She was named Associate AD for men's and women's non-revenue sports programs in 1982.
A professor of exercise and sport sciences, Dr. Roby led Arizona women's athletics through its period of tremendous growth and affiliation with the Intermountain, WCAA, Pac-West and Pacific-10 Conferences. She was a founder of the Council of Collegiate Women Athletic Administrators (now NACWAA), a member of the Pac-10 Council where she served as Vice President and a member of the compliance committee. Dr. Roby served on numerous AIAW and NCAA committees throughout her career and was the first woman to serve on the national executive boards of NACDA and the U.S. Sports Academy.
She is a member of Golden Key Honorary and The University of Arizona Mortar Board Hall of Fame, Sports Halls of Fame and the NACDA (National Association of Collegiate Directors of Athletics) Hall of Fame.