1/4/2000



McKale Memorial Center (MW Basketball)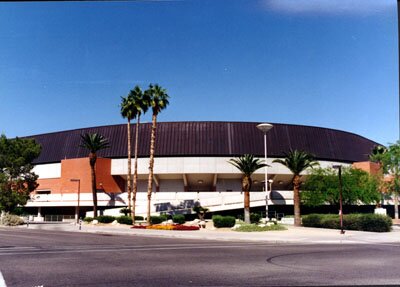 McKale Memorial Center, the home of Wildcat basketball, is just one of the showcase athletic facilities on the campus and one of the finest arenas in the country. It's situated off the UA Mall on the extreme eastern edge of the campus adjacent to Arizona Stadium, Sancet Field (baseball), Hillenbrand Aquatic Center and campus research, parking and library facilities.
McKale Center opened in February of 1973 with a seating capacity of 13,658. The building literally filled up overnight as Arizona basketball entered a new era. After numerous games before crowds of several thousand in Bear Down Gym opening the 1972-73 season, the team and opponents moved a block east on campus to McKale, and Wildcat basketball went upscale before consistent crowds of more than 11,000 right from the start.
Capacity fluctuated from 14,431 after seats were added in the mid-90s to a 1984 installation of chair-back seating that reduced capacity to 13,316. Elimination of all bleacher seating dropped the level to 13,124 in 1986; additional seats added in 1988, 1990, 1992, 1994, 1996, 1997 and 2000 pushed the capacity to its current figure of 14,545.
The facility is named in memory of the late J.F. "Pop" McKale who was UA athletic director and coach from 1914 to 1957. McKale died in 1967 at the age of 79.
Before McKale Center was completed, the home court of the Wildcats for nearly half a century was Bear Down Gym, which opened as University Gymnasium in 1927 but took its eventual name from the legendary words of John Button Salmon, who asked J.F. McKale to "Tell them... Tell the team to bear down," from his deathbed after a 1926 automobile accident fatally injured the football quarterback.
In 45 seasons in Bear Down Gym (it was not used during the war years of 1942-43 & 1943-44), Arizona won 405 games and lost 119, a winning percentage of .773. This record included a remarkable 81-game home-court winning streak which began in 1945 and ended in 1951. That streak is tied with Marquette for the fifth-longest winning streak in NCAA history.
Construction on McKale Center was under way in the fall of 1970, and the first varsity event was held Feb. 1, 1973 as Arizona defeated WAC rival Wyoming, 87-69. The official dedication program took place Nov. 30, 1973 when UA beat Illinois, 101-80. The Wildcats took the home court to heart and went on to win 67 of the first 70 games in McKale. In fact, Arizona also has the NCAA's 10th best home-court winning streak by putting together a run of 71 consecutive wins in McKale Center from 1987 to 1992. UCLA snapped this string on Jan. 11, 1992, by posting a 89-87 win.
UA has won 227 of its last 246 home games, including 179 of the last 190. To date, Arizona has an overall record in McKale Center of 352-65, for a winning percentage of .844.
In recent years, facelifts have put sophisticated computerized message boards spanning the upper deck on both sided of the court, and installed padded press row and official's' tables complete with computer-driven scoreboards. The 1992 season brought a new electronic age to McKale with four huge video replay screens in each upper corner. The latest addition to the arena is new floor that was installed at the conclusion of the 1997-98 campaign, a state-of-the-art surface that replaces the floor that had been in place since 1983.
McKale has been the scene of several major national sports events such as the NCAA West Regionals in March 1974 and in March 1980 and the NCAA Wrestling Championships in March 1976 and NCAA first and second round basketball action in 1979, 1987, 1989, 1991, 1993, and 1997. This March, the arena will again host NCAA West Region first and second round action. In addition, the USA Basketball Team trained in McKale Center prior to winning the 1986 World Championships and Arizona played host to the second Pacific-10 Conference Tournament in 1988.
The facility, which cost some $8.1 million to build in 1970-72, is 428 feet long, 339 feet wide and 77 feet from the floor to the parapet.
McKale Center houses the entire off-field operations of the University's athletic department as well as an exercise sciences lab and a suite of 20-plus office labs for the Optical Sciences department. The three levels include equipment rooms, training and rehabilitation center, locker rooms, storage areas, ticket operations, academic services, computer lab facilities and administrative offices.
McKale's Crowd
Arizona has sold out McKale Center for each of the past 13 seasons, largely on a season-ticket basis. Wildcat basketball is one of the toughest tickets around -- normally, only a handful of individual tickets are sold on a game basis. Arizona has led the league in home attendance for the past 16 years and in 1997-98, broke its own league record for average with a figure of 14,530 per game.

McKale Center's Largest Crowds


1.      15,176  New Mexico      1/14/76
2.      15,156  Arizona State   3/4/78
3.      14,672  Morgan State    11/20/97
4.      14,642  Coppin State    12/13/97
5.      14,638  UCLA            1/20/96


McKale Center's Largest Crowds During the Lute Olson Era (1) 
1.      14,672  Morgan State    11/20/97
2.      14,642  Coppin State    12/13/97
3.      14,638  UCLA            1/20/96
4.      14,610  California      1/30/99
5.      14,594  USC             3/4/99          


Yearly Attendance & Record in McKale Center


Year    Games   Record  Total   Per Game        Losses
1972-73 5>      4-1     64,975  12,995          Arizona State
1973-74 15      14-1    184,275 12,285          UTEP
1974-75 14      13-1    159,096 11,364          Arizona State
1975-76 16      16-0    179,523 11,220  
1976-77 16      16-0    199,130 12,446
1977-78 15      12-3    172,428 11,495          Purdue, New Mexico, Utah
1978-79 15      13-2    174,831 11,655          SW Louisiana, Oregon State
1979-80 16      10-6    181,428 11,339          Washington State, Kansas, Oregon State, Oregon, Arizona State, UCLA
1980-81 17      10-7    160,651 9,450           Fresno State, Kansas State, Lamar, Grand Canyon, Oregon State, UCLA, USC
1981-82 14      6-8     115,272 8,234           UNLV,   Washington, Washington State, Arizona State, California, UCLA, USC, Oregon State
1982-83 12      4-10    87,136  6,224           Iowa State, Illinois Wesleyan, USC, UCLA, Oregon State, Oregon, Washington State, Washington, Arizona State, California
1983-84 14      7-7     102,163 7,297           Fullerton State, Pan American, Tennessee, UCLA, Washington, Washington State, Stanford
1984-85 15      12-3    163,980 *10,932         Minnesota, USC, Oregon
1985-86 16      16-0    179,008 *11,188
1986-87 15      10-5    190,800 *12,720         Utah, UCLA, California, Iowa, UTEP (NCAA)
1987-88 19%     19-0    252,649 #*13,297
1988-89 14      14-0    190,675 #*13,620
1989-90 14      14-0    190,949 #*13,639
1990-91 17      17-0    235,051 #*13,826
1991-92 16      15-1    222,347 #*13,884        UCLA (snapped 71-game winning streak)
1992-93 15      14-1    208,185 #*13,879        Arkansas
1993-94 15      14-1    209,592 #*13,973        California
1994-95 14      11-3    199,589 #*14,257        UCLA, California, Arizona State
1995-96 16      13-3    228,064 #*14,254        Syracuse, Washington, Stanford
1996-97 14      13-1    199,899 #*14,279        UCLA
1997-98 15      15-0    217,953 #*14,530
1998-99 14      14-0    200,885 #*14,349
1 17    16-1    246,237 #*14,485        New Mexico              
        417     352-65  .844


# Full Capacity

Led the Pac-10 in attendance % Figure includes three home games during the Pac-10 Tournament > McKale Center opened Feb. 1, 1973 w/5 home dates