...

CAPITAL PROJECTS &
MAJOR GIFTS
The UA Athletic Department has seen incredible growth in its facilities in recent years. Since 1985, more than $20 million has been spent to build new facilities as well as to improve and maintain our current facilities. While a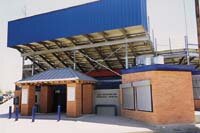 small portion of our scholarship costs are partially covered through state appropriations, the State of Arizona provides 0% towards the funding of any UA Athletics bricks-and-mortar project. Therefore, it is necessary to generate 100% of the funding for these types of projects through private sources.

Thanks to the generosity of our Wildcat faithful, we have built new facilities for the softball, swimming, gymnastics, soccer, track and tennis programs. In addition, improvements have been made to the strength training and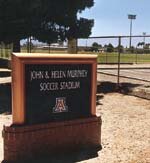 medical services areas, the women's locker room and the recently renovated UA Sports Hall of Fame. Most of these projects have been named after the individuals who helped make them possible.
Should you have an interest in a naming opportunity for any upcoming capital project, please contact the Wildcat Club Development Office at .