8.11.2000
Cats' Second Day of Football Camp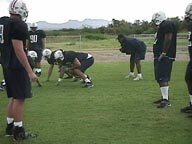 DOUGLAS, Ariz.--Continued big plays are helping the University of Arizona football coaches get a clearer picture of its rebuilt secondary at fall training camp on the Cochise College campus near here.

Redshirt freshman cornerback Michael Jolivette and junior letterman strong safety Zaharius Johnson each intercepted their second pass of camp, both off starting quarterback Ortege Jenkins in morning drills Friday. The Wildcats, who return one part-time starter in the defensive backfield -- free safety Jarvie Worcester -- have at least nine candidates for the four starting spots and those two are making strong bids.

Johnson is sharing time with junior Brandon Nash, who redshirted last year after lettering two seasons as a wide receiver. He's been limited to two of three practices per day because of tendinitis in his knees. Jolivette emerged during spring ball.

"Those plays (they made) are reinforcing ball awareness," head coach Dick Tomey said afterward. "The guys are getting their hands on the ball and catching it. We're trying to emphasize 'takeaways' by the defense. We never had a drought like we had last year -- nearly a month without our defense getting a takeway," he said.

"Some of that is serendipitous -- being in the right place at the right time -- but it's exciting to see it happen.

"Of course, you can't have it both ways -- when you work against yourself, if you're doing well one way, you're not doing well the other way," Tomey said of the offensive turnovers in camp. "But I'd rather have it the way we're having it because the offense takes more timing and precision and you expect your defense to be ahead," he added.

Opposite Jolivette, who is listed ahead of Anthony Banks, David Laudermilk is the current No. 1 at the other corner, contesting with David Hinton. Worcester is being pushed by Clay Hardt. Junior college transfer Jermaine Chatman is seeing considerable action at cornerback.

UA tight end Brandon Manumaleuna, who missed spring ball under a suspension for violating team rules, appears to be a favorite target for Jenkins in full-line passing drills and caught a 49-yard play-action throw for a touchdown in the afternoon and a couple of 15-yard passes in one morning drill, one for a touchdown.

"I see really good stuff" from Manumaleuna, Tomey said. "In my mind there are not many tight ends his equal. He's the full package -- a receiver and a blocker."

Tomey said the 2000 Wildcats should be "much more versatile on offense" with the likes of Manumaleuna, despite losing UA career rushing leader Trung Canidate and career receiving and punt return leader Dennis Northcutt to the NFL draft. "A whole bunch of guys will be more involved. Maybe we won't have the 'instant touchdown' and be able to dial up a 75-yard run or return, but hopefully we can be a more blue- collar team and drive it down the field without waiting for the big play," he said.

Sophomore Leo Mills has earned the No. 1 tailback spot ahead of soph Larry Croom and senior Leon Callen, who has not yet reported to camp because of uncompleted academic responsibilities, but Tomey said no clear starter would likely develop before a couple of games. "Last year Trung was a clear starter. It's not that way this year. And we're expecting that a freshman or two is going to have to play," he said.

Four freshman backs are in that mix -- Clarence Farmer, Chris Harris, Anthony Fulcher and Tremaine Cox. "The best blocker will emerge as the guy who plays. Young backs can't block. That's what they don't do -- pass protection. It's not part of their (high school) world," Tomey said.

NOTES... Wide receiver appears to be a position the Cats are likely to have a rotating corps. In Friday's drills, Bobby Wade, Malosi Leonard, Andrae Thurman, Brandon Marshall, Gary Love and Lance Relford each had numbers of opportunities with the top two units, and the nominal starter on one side, fifth-year senior Brad Brennan, has been held out of drills because of a back problem... Arizona's offensive line has few question marks, except maybe the right guard position being contested by sophomore letterman Aaron Higginbotham and redshirt junior Kevin Barry. The other starters are returnees and appear entrenched -- center Bruce Wiggins, guard Steven Grace and tackles Makoa Freitas and Marques McFadden. "I'd be surprised if it's not the strength of our team," Tomey said of the line...