5.2.2000
2000 Arizona Football Outlook

Offense | Defense | Special Teams | Schedule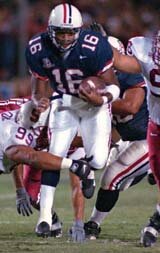 In an expanded nutshell: the Arizona football team enters 2000 with a veteran big-play fifth-year quarterback, a veteran offensive line, a trio of tailbacks thought to be a collective group as capable as any in the Dick Tomey coaching era, an outstanding young all-purpose player to lead its receiving corps, a good situation at tight end, a young emerging force at inside linebacker, some solid senior leadership on the defensive front, a new defensive secondary which almost has to be better than the one which finished last in the league in pass defense, the nucleus of anti-kicking teams which blocked six a year ago, a returning punter and no greater number of question marks than most teams.
Can UA's place-kicking improve from the 6-for-19 field goal performance in 1999? Can the Wildcats develop the cover corners and more pass rush so essential to its flex defense? Can Arizona turn the 1999 turnover ratio of -12 around? Will the Wildcats develop some team chemistry to compensate for the loss of the school's career leading rusher (Trung Canidate), receiver/all-purpose man (Dennis Northcutt), efficiency passer (Keith Smith) and a guy who made 405 career tackles (Marcus Bell)?
With 46 returning lettermen split evenly among offense and defense, a strong redshirt class including three 1998 lettermen, and a favorably rated incoming class dotted with personnel who will be given a chance to help plug some holes, Arizona coach Dick Tomey likes his chances -- and feels strongly about this year's Wildcat squad.
An Arizona 1999 club thought to be a contender for national consideration finished 6-6. While not technically a losing year, it surely didn't quite work out to anyone's expectations. This time around, expectations are rooted in simple concepts: work and attention to detail. Discipline, in other words.
In spring, such tactics became a clear emphasis when Tomey sidelined starting tight end and inside linebacker Brandon Manumaleuna and Antonio Pierce for off-the-field difficulties. "Those guys paid a heavy price. Every football player wants to be out there practicing in order to improve and boost their chances of contributing on every down. It hurts when you can't. But we tried to be more in line with zero tolerance in every way, whether it was punctuality, reliability or performance in the classroom," he said.
"We can look back and see that lack of discipline cost us, and none of us want it to happen again," Tomey said.
Arizona was not a program riddled by off-the-field distractions. The ones of the field were enough. Too many penalties (school-record 9.6 per game), too few takeaways (an opponents record-low 11, to 23 turnovers by the Cats), a trouble in short-yardage and goal-line opportunities despite a Pac-10 record of 5,663 total offensive yards, the missed kicks (13 field goals and five extra points), etc.
It added up to a 6-6 record -- all six losses to bowl teams. It was a year the Cats beat USC and UCLA, and lost to five other league schools. It was assuredly the bad-taste kind of season for a fall full of promise.
In Dick Tomey's 13 seasons at Arizona, however, he's followed up each non-winning or losing season (1987, 1991, 1996) with a winning season. And should anyone be quick to make early predictions about Pacific-10 Conference football, forget it. The five teams (including Arizona) picked to finish in the top half of the league in 1999 lost a total of 21 conference games. The teams tabbed to finish in the lower half lost 19 games.
Tomey has more career Pac-10 victories than any active coach, and he knows the syndrome: Some teams picked to do well, don't; some teams picked to be average, aren't. In Arizona's case in 2000, the program has gone back to a Wildcat theme that has worked in the past: Who cares what anyone but the players and coaches think? Let's play some football and see what happens.
The Offense
Coordinator: Dino Babers
Quarterback - Coach Dino Babers
Ortege Jenkins, 6-2, 216, Senior
Jason Johnson, 6-2, 207, Sophomore
Cliff Watkins, 6-3, 210, RS Freshman
Arizona's offensive pizzazz in the past three years was partially the result of a double threat at quarterback -- Keith Smith and Ortege Jenkins. It's a different concept in Tucson this year. Jenkins is the guy.
Jenkins' energy and excitement about the singular opportunity was evident in spring ball. AYou could sense a genuine anticipation about his desire to be a guy who can lead his team to victory and be an impact player," Tomey said.
The potential impact is not unknown. As a junior, he set a personal high with a 60 percent completion percentage, the third best in school history, and also recorded a 144.72 efficiency rating -- also No. 3. Two games in which he had a bunch of work because Smith had trouble, were 15-for-23, 200-yard and 12-for-18, 198 yard outings against Stanford and Washington. As a sophomore, his flair for the big play was most noticeable in what has become a Fox Sports Net college football signature -- the winning somersault TD at Washington. As a freshman he threw a Pac-10 freshman record 19 touchdown passes.
Jenkins has the arm and running ability to keep Arizona's offensive ship afloat. The Cats recorded back-to-back 5,000-yard seasons the past two years and although running back Trung Canidate and wide receiver Dennis Northcutt had huge roles in that success, quarterback play and efficient leadership helped it happen.
"We're not likely to have all those yards like we did," Tomey said. ALosing Trung is losing all those >instant' touchdowns. But we hope we'll win more games. Yardage sure doesn't."
Sophomore Jason Johnson has a clear edge as the backup, with a couple games under his belt and a deep grasp of the offense, but Tomey said redshirt freshman Cliff Watkins showed he was capable in spring ball and could be a factor. One of the Cats' top juco recruits, Erick Garcia, had his introduction to major college football during spring ball and could likely be a redshirt candidate. The Cats also return redshirt freshman Kyle Slager and bring in true freshman Steve Fleming the fall.
"As far as the backup situation, whether Jason or Cliff appears the strongest, we'll play him early, maybe a series or two in the first game," Tomey says.
Tailback - Coach Randy Robbins
Leo Mills, 5-11, 210, Sophomore
Leon Callen, 5-9, 188, Senior
Larry Croom, 5-9, 191, Sophomore
Tomey mentioned 1999 senior Trung Canidate's 'instant' touchdowns and how a replication of the feat might be something he'd never see again. Canidate scored 26 touchdowns in his career, averaging 43.8 yards per score. He gained 1,139 yards on the TD runs alone and overall had a 6.33 yards-per-carry average on 604 attempts for 3,284 yards. He's gone -- a first-round NFL pick in the 2000 draft. Arizona had a Pac-10 record five consecutive and six 500-yard games during the season and it might be hard to repeat.
UA's tailback returnees in 2000 include senior Leon Callen (35-200), sophomore Leo Mills (27-165) and sophomore Larry Croom (12-49). Each, in order, averaged 5.2, 6.1 and 4.1 yards per carry, so there are good indications that each can move the ball.
"All three guys are capable," Tomey says. ALeo took better care of the football in spring, so you'd have to say he opens as the strongest candidate. But we'll need all three and some other guys back there. Leo needs to be a better blocker. Leon has more experience and is the more accomplished blocker and Larry showed some good all-around talent as a true freshman."
Callen has been a UA track sprinter and has several 100-yard games under his belt. He has 751 career yards at 4.8 per carry. Mills is a bigger back but equally quick and Croom has shown good leverage and elusiveness.
Newcomers expected to get early looks are incoming freshman recruits Tremaine Cox of Tucson, Chris Harris of Elysian Fields, Texas, Clarence Farmer of Houston and Anthony Fulcher of Scottsdale. True freshman tailbacks are nothing new to college football and those guys bring some solid credentials as well as potential defensive skills.
Fullback/H-Back - Coach Randy Robbins
Eli Wnek, 6-3, 240, Junior
Wilton Paogofie, 5-10, 224, Senior
Galovale Galovale, 5-11, 221, RS Freshman
The Cats will look to a couple of newcomers in the fall to identify a potential big running back, but junior Eli Wnek, a transition player a year ago when he switched from a nine-game defensive end starter to offense, is back with a full year and a spring under his belt at the H-back spot. He had a few catches out of the backfield or as a motioning tight end and brings some instinctive play to any position.
Coaches switched big-back Lance Briggs to his prep stardom spot as an inside linebacker, so reserves Wilton Paogofie and Galovale Galovale had some work in the backfield in spring ball. It's evident UA will look at prep star Farmer and an incoming junior college recruit (who has to remain unnamed until fall drills commence) as big bodies in the backfield.
Briggs could figure in short-yardage or goal-line offensive situations but appears to be a top prospect on defense.
Tight End - Coach Lawrence Livingston
Brandon Manumaleuna, 6-2, 288, Senior
James Hugo, 6-6, 250, Sophomore
Peter Hansen, 6-7, 245, Junior
Brandon Manumaleuna had 20 catches for an average of 15.8 yards per grab and two touchdowns, plus caught two balls for 2-point conversions in 1999. His hands, speed and strength make him the clear leader. But James "Togie" Hugo took advantage of Manumaleuna's absence in spring to get a lot of the work and was, according to Tomey, one of the most improved players on the squad.
The position might receive more emphasis than in recent years when wide receivers Jeremy McDaniel and Northcutt and tailback Canidate kept hitting home runs. Manumaleuna has broken loose for several down-field big plays in his career and is a good target in short- and 15-yard ranges.
UA has employed some 'heavy' formations with double tight ends and an H-back, so combinations are likely to be seen again in 2000.
Former quarterback and receiver Peter Hansen, who's made a career with five blocked kicks, also performed well in spring ball at tight end and could be a contributor - though surely his emphatic play on special teams will continue.
Offensive Line - Coach Charlie Dickey
LT - Makoa Freitas, 6-4, 301, Junior
- Darren Safranek, 6-7, 270, Sophomore
LG - Steven Grace, 6-3, 286, Junior
- David Floyd, 6-3, 275, Senior
C - Bruce Wiggins, 6-3, 280, Senior
- Steven Grace, 6-3, 296, Junior
RG - Aaron Higginbotham, 6-5, 286, Sophomore
Or Kevin Barry, 6-4, 325, Junior
RT - Marques McFadden, 6-4, 303, Senior
- Makai Freitas, 6-7, 285, Senior
For two consecutive years the Wildcats have accumulated more than 5,000 yards in total offense, which represented successive school marks and a Pac-10 record for the latter year. It's not much of a stretch to credit some of the aforementioned names - Smith, Canidate and Northcutt - for huge chunks of that yardage, but the guys up front on the line deserve notice. And Arizona will return its line intact except for right tackle Manu Savea, an NFL draft pick in April.
Center Bruce Wiggins heads the group, entering his third season as the starter. Tomey likes to talk about the "physical, tough world of the offensive lineman," and then Wiggins' name is the first mentioned and cited as one of the team's leaders.
Guard Steven Grace, who along with Wiggins was a second-team all-league performer in 1999, also enters his third year as a starter, though a year younger. Makoa Freitas came on in his true freshman season (1998) to play 13 games as the top backup on the line, then put in a full year at the critical left tackle spot a year ago.
Marques McFadden started all of last year at right guard but moved to tackle last spring while sophomore Aaron Higginbotham and junior college redshirt Kevin Barry worked at the guard position.
Arizona, which sent five junior college recruits (among 11 total offensive linemen) into the NFL in the 1990s, put quite a bit of effort into the recruitment of Barry in 1999. He had foot surgery in September and missed the year, but appears to be in the caliber of some of his juco predecessors.
Sophomore Darren Safranek offers the Cats some flexibility at a couple of positions and senior letterman David Floyd has game experience to help provide depth. Juco transfer Ralph Zarate, who Arizona recruited out of Tucson High in 1997, arrives in the fall and could be a factor.
Receivers - Coach Rob Ianello
WR - Bobby Wade, 5-11, 180, Sophomore
- Malosi Leonard, 6-2, 215, Junior
- Andrae Thurman, 6-0, 170, Redshirt Freshman
- Gary Love, 5-8, 171, Redshirt Freshman
WR - Brad Brennan, 5-11, 173, Senior
- Brandon Marshall, 6-0, 180, Junior
- Marvin Brown, 5-10, 182, Senior
Spring practice gave a good indication that Arizona will have some good depth at receiver and that youth will have to be served.
Senior Brad Brennan is expected back in form after a hamstring injury shortened his '99 year and kept him out of spring practice. He has 56 career catches for 1,033 yards, an average of 18.4 per pop and led the team in per-catch figures in 1998 and 1999. Sophomore Bobby Wade made a big impression in the spring game, but equally with his effort on defense as a cornerback. He intercepted a pass, returned a fumbled pitch 83 yards for a score, then as a wideout caught three balls for 41 yards.
Wade set a UA freshman record a year ago with 30 receptions for 454 yards and four TDs. Normal and sustained improvement could give him a chance to be a special player.
Junior Malosi Leonard and senior Marvin Brown saw rotation duty a year ago and redshirts Brandon Marshall, Andrae Thurman and Gary Love should push for the same if not more. Thurman caught two TD passes in the spring game and Love returned a kickoff 100 yards for a score.
California prep standout Ricky Williams arrives in fall as the sole wide receiver the Cats signed in February.
The Defense
Coordinator: Rich Ellerson
Linemen - Coach Marty Long
DE - Joe Tafoya, 6-5, 255, Senior
- Alex Luna, 6-0, 225, Junior
- Aaron Huisman, 6-2, 240, Sophomore
DT - Keoni Fraser, 6-1, 282, Junior
- Young Thompson, 6-2, 300, Sophomore
DT - Anthony Thomas, 6-1, 282, Junior
- Ben Alualu, 6-0, 266, Sophomore
DE - Idris Haroon, 6-2, 265, Senior
- Tony Thompson, 6-2, 240, Junior
- Mike Robertson, 6-3, 240, Senior
Arizona returns a number of guys who have started up front in Joe Tafoya (28 games), Keoni Fraser (20), Idris Haroon (11), Mike Robertson (9) and Alex Luna (4). Plus, there's a mix of guys who have played games as regulars - Anthony Thomas (22 plus 1 start), Young Thompson (9) and Ben Alualu (8).
The challenge for UA's coaches will be to optimize Tafoya's leadership and find the right combination. It could come with help from some relative newcomers and some incoming fall talent. No question the staff wants more pass pressure and a return to typical Arizona rush defense figures. The team averaged three sacks per game but had several outings without any, plus gave up 143 rushing yards per contest last year.
Tafoya played as an interior tackle to help out in 1999, yet still led the club with 14 tackles for loss and 10 sacks. His best position is outside, where he's expected to return for his senior year - "If we're good enough inside," notes Tomey. His experience in three years as a regular give the Wildcats an anchor. He was a second-team All-Pac-10 selection in 1999. Fraser made a remarkable adjustment as a true-freshman 11-game starter in 1998 and with the addition of another year's experience also is expected to be a force.
Thomas redshirted as a junior last year after two years of work as a top alternate, and spring ball revealed he could be a plus with his added maturity. He and Alualu, who also redshirted 1999, were interior keys as rotation support in 1998. Haroon has had some spectacular individual plays in a couple of years at both tackle and end, and as a senior in 2000 is expected to add in job-description consistency. Young Thompson saw considerable backup action as a redshirt freshman in 1999 and is expected to fight for a bigger role. Luna, a special teams' regular, concluded the last half of 1999 as a defensive end starter.
Mid-year transfer Tony Thompson moved himself into the picture in spring action and Arizona anticipates a close look at incoming end Johnny Jackson and prep tackle Vince Feula. Sophomore letterman Aaron Huisman at end and redshirt freshman Brandon Phillips at tackle also could make a move.
Linebackers - Coach Bob Wagner
(OLB Coach - Rich Ellerson)
ILB - Lance Briggs, 6-2, 220, Sophomore
- Shelton Ross, 6-0, 220, Junior
ILB - Stadford Glover, 6-0, 236, Senior
Or - Antonio Pierce, 6-1, 230
WLB - Adrian Koch, 5-9, 216, Senior
- Joe Siofele, 6-2, 235, Redshirt Freshman
- Austin Uku - 6-1, 232, Senior
Arizona's linebacking corps will surely look different after three years with Marcus Bell in the starting lineup. It might be wishing and hoping to expect another guy to come along and record 405 career tackles.
But UA coaches were ebullient about the physical style and apparent ease with which sophomore Lance Briggs moved back to defense in spring ball and staked an early claim to a starting role. Last year as a tailback/fullback Briggs rushed for 6.8 yards per carry in some solid spot duty (25-165, 2 TD). If anything showed, it was his full-speed play, and in spring he was able to translate it into the defensive equivalent.
"Briggs still has a chance to be a short-yardage offensive guy, but he's going to be a marvelous player at linebacker," Tomey said after spring drills concluded.
After a back injury to senior starter Scooter Sprotte, junior college transfer Antonio Pierce took advantage of regular play in 1999 and finished as the No. 2 tackler behind Bell, notching 75 total hits, with 10 for losses, four sacks and a linemen/linebackers-best six passes deflected. He is expected to step up and reclaim the position.
But senior Stadford Glover and junior Shelton Ross have some game experience and will contend for inside spots, and surely help the rotation. Glover should become UA's second graduate to be awarded another year of eligibility under the NCAA's four-year graduation rule (Joe Salave'a was the first in 1997). If his work on the field is like his hard work in the classroom he'll be a welcome boost to the linebacking corps. He, Ross and redshirt freshman Matt Molina will remain part of UA's kicking teams, as are most linebackers in the UA system.
At outside linebacker the Cats return journeyman Adrian Koch, a three-year letterman and former Marine Corps member who will battle redshirt freshman Joe Siofele, a decorated prep player from Hawai'i, and senior letterman Austin Uku. The latter could redshirt if UA is solid enough at the position - where Alex Luna, Glover and some others have played previously. Uku had 18 hits in some limited play in 1999. The position is the flex part of Arizona's double-eagle flex defense and requires considerable adjustments during play.
Secondary - Coach Duane Akina
CB - David Laudermilk, 6-1, 170, Sophomore
Or - Anthony Banks, 5-11, 155, Junior
SS - Brandon Nash, 6-1, 212, Sophomore
- Zaharius Johnson, 5-11, 188, Junior
FS - Jarvie Worcester, 6-1, 204, Sophomore
- Clay Hardt, 6-1, 175, Redshirt Freshman
CB - Michael Jolivette, 5-8, 171, Redshirt Freshman
- Chidi Daniels, 5-9, 175, Sophomore
Dick Tomey closed spring ball with the conclusion that coaches have much stronger feelings about the defensive secondary than a year ago. The unit is one which will see three new starters and returns only sophomore free safety Jarvie Worcester, who started seven games.
Some of the biggest cause for optimism is the biggest guy back there - strong safety Brandon Nash, who lettered as a true freshman wide receiver in 1998. His conversion and redshirt season as a defensive back should infuse some needed physical play, and it appeared to pay dividends in spring ball. Defensive coordinator Rich Ellerson has mentioned that the Cats need some guys who like to hit and Nash gets that nod.
Ditto for the likely backup behind him - redshirt freshman Clay Hardt. Most UA observers can't wait to see the guy knock heads on special teams and conceivably earn rotation status in the backfield.
Young players at cornerback - sophomore letterman David Laudermilk and redshirt freshman Michael Jolivette - similarly are guys who people want to see in every-day action, but good spring sessions have Tomey and secondary coach Duane Akina believing good things are under way. A couple of other young largely untested players in junior Anthony Banks and sophomore Chidi Daniels enter fall in the mix, as will redshirt sophomore David Hinton. The question of wide receiver Bobby Wade and his eventual position should be determined in the fall. His work at cornerback in spring might be cause for a switch or two-way duty. "We know one thing - after the game Bobby Wade is going to be really tired," says Tomey.
Coaches will severely test a junior college tandem arriving in the fall, David Crockett and Jermaine Chatman of Pasadena City College, to see if they're physically ready and street-wise enough to play Pac-10 DB.
There's little doubt the staff will work hard to boost turnover production in the secondary, which contributed four of the Cats' five 1999 interceptions.
Arizona plays a lot of man coverage and will continue to do so. "You have to be on an island back there," Tomey says. "Most offenses today can get you into a situation where you'll be out there having to be in someone's face. We know, too, that you need a pass rush to make your DBs better."
Special Teams
Coordinator Bob Wagner
Some of them were, and some of them weren't - special - in 1999. Arizona led the nation in punt returns and blocked six kicks.
But UA saw opponents enjoy better field position with a 23-yard kickoff return average, and drop UA's net punting average to 34 yards by averaging more than nine yards per return. Then, too, the Cats missed a bunch of place kicks - 13 field goals and five extra points. Four of the misses came in two games the Cats lost by a combined 12 points and if not potential margins of difference they were missed opportunities which affected the complexion of the games.
Sophomore Sean Keel earned most of the work in spring ball and gets the early nod at place kicker. He was 5-for-8 a year ago. Redshirt freshman Bobby Gill also saw some duty and enters fall with a shot at the job.
Junior punter Chris Palic (39.1, nine inside the 20 yard-line) returns for his third season and appeared to make strides in the offseason, according to Tomey. He could find competition from redshirt freshman Ramey Peru, who has a strong leg, but Palic surely has an edge because of game experience.
Sophomore Bobby Wade will lead a cast of skill position players who will contend for punt and kick return duties. Arizona has speed and instinct here, but will have to identify the explosive running type that Dennis Northcutt became during his superlative all-purpose career.
The kick blocking - 14 in the last two seasons - will continue to be an emphasis. Six-foot-seven junior TE Peter Hansen has blocked five kicks in his career and helped alter others with some outstanding vertical leaping ability, plus Arizona has used the inside track to get other blocks by Brandon Nash and Joe Tafoya. In all, Arizona had 37 blocks in the 1990s.
"You block a kick, you're on the team for life," Tomey told reporters after Hansen's first kick block against Washington in 1998.
Schedule
The Wildcats open on the road at a bowl game winner for the second consecutive year, at Utah on Sept. 2 in a game likely to be featured on one of the ESPN networks.
The Utes, defending co-champions of the Mountain West Conference, are a program which has been to five bowl games in the '90s (including a narrow 16-13 victory over Arizona in the 1993 Freedom Bowl) and have a head guy who coached under Tomey at Arizona - Ron McBride. Someone will be shooting for someone.
A traditional Big Ten powerhouse, Ohio State, and a well-regarded San Diego State program come to Tucson in successive weeks to close out UA's non-conference schedule by Sept. 16.
Then, it's Pac-10 time. Check the media prognostications from any year and see if anyone knows what to expect ahead of time.