5.27.2000
Cats Stay Alive in Softball World Series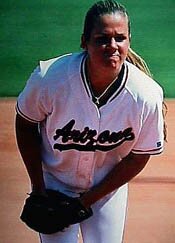 ---
OKLAHOMA CITY--No. 2-ranked Arizona (58-8) snapped out of a funk created by suffering Thursday night's perfect-game loss and smacked three home runs among 11 hits in beating California, 6-0, to stay alive in the loser's bracket of College World Series action Saturday afternoon.

UA pitcher Becky Lemke (30-6) scattered five hits and pitched through situations which resulted in the Bears (49-25) stranding 11 runners. She struck out five. UA will face top-seeded and No. 1-ranked Washington in an elimination game later Saturday at 9:30 p.m. CDT. The Huskies lost to UCLA in winner's bracket action earlier Saturday morning.

Arizona, which had been the victim of a perfect game in its opener, doubled its output of College World Series with two in the first to take a 1-0 lead. With one out, Nicole Giordano singled up the middle and an out later scored on Toni Mascarenas' single down the rightfield line.

Chrissy Gil's high fly ball down the right field line sailed over the fence for a solo home run in the second to push the lead to 2-0. It was her eighth of the year.

Cal threatened in the second when Pauline Duenas was hit by a pitch, Toni Mascrenas' throw on Paige Bowie's sacrifice bunt caused both runners to be safe and Courtney Scott sacrificed both runners up. But Mascarenas threw Duenas out at the plate on a grounder by Amber Phillips and Lemke struck out Eryn Manahan to end the inning.

UA added two more runs in the third with its short game. Lauren Bauer walked, stole second and moved to third on a single by Giordano, who stole second. One out later Mascarenas singled in Bauer, then Collins single in Giordano.

The Bears stranded three more in the third, loading the bases with a walk sandwiched around two infield singles, but Lemke retired the side on two foul flies.

Allison Andrade lined the first pitch of the sixth inning over the center field fence to make it 5-0. Mascarenas lined the first pitch in the seventh over the fence in left field to close the scoring for UA. She finished the day 4-for-4 with three RBI.

Post-Game Notes
Arizona 6, California 0 Post-Game Notes
California's Veronica Nelson was walked for the 86th and 87th times today to extend her own NCAA record. It marked the 29th game this season Nelson has been walked at least once.
California went 0-2 in the WCWS for the first time in five appearances. Cal went 2-2 in 1986 and 1999, and 1-2 in 1992 and 1996.
Arizona's Lauren Bauer has stolen two bases in seven games this season.
Arizona's Toni Mascarenas posted four hits and three RBI's today after tallying five hits and four RBI's in her eight previous WCWS games.
Today's games marks the second time in the past two seasons Arizona shutout California in the WCWS. Arizona defeated Cal 3-0 in the opening round last season.
Arizona's Nicole Giordano collected her 94th and 95th hits of the season, the eighth best single-season total in school history.
Mascarenas moved into sole possession of the seventh spot in Arizona career home runs with 18, ninth place in career RBI's (160) and into the top 10 in career runs scored with 143.
Arizona's six runs matched Alabama's total earlier today for the highest single-game run total of the 2000 WCWS. The six-run victory margin was also the largest of the WCWS this year.