8.15.1999
Head Coach Mike Candrea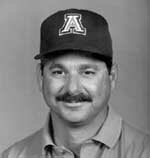 Few teams ever have the opportunity to play for the big prize in college softball -- only five different teams since 1990 have played for the College World Series title.



One of those -- Arizona -- has more chances than some. The Wildcats, remarkably, have been among the two teams standing on the final day of the college softball season for eight consecutive years. Eight consecutive title-game appearances.

Arizona's won-loss record last year was 67-4. The victories were an NCAA record. It's an amazing single-season record -- but it didn't get the job done. One of the four losses was in the right place at the wrong time -- the national title game.

Arizona coach Mike Candrea is a stickler for details. Shortly after Arizona dispatched a 1998 NCAA Regional opponent by a mercy-rule 10-0 score, he told a reporter, "We looked bad in pre-game warmups." What he did not say was that the good thing was his players knew it, too. Exit interviews of student-athletes who played for Candrea typically reveal that Wildcat players believe in their coach and know that to work toward his standard of excellence is to improve, help one's team and achieve unity with a goal in mind.

The goal in mind for Candrea's teams at Arizona always is the ultimate -- win the national title. And his teams are not pretenders to the throne. He's led UA to five championships.

Last fall, Candrea, 43, was honored by the University of Arizona Alumni Association with an Honorary Alumnus Degree, one of the most prestigious campus-wide honors bestowed annually by the association. It is not an athletic honor, but an honor of considerable sway among Among faculty and the other leaders who help teach University of Arizona students.

Candrea has a career winning percentage of .625 -- in College World Series title games. That's not in mud-splattered February/March round-robin tournament action; that's gut-check time at the top. In overall NCAA Tournament action to get there, he has a 62-17 mark (.785).

No Division I softball coach currently coaching -- or in history -- has his career winning percentage. Specifically, his 13-year Arizona record of 694-143 (.829) is the best in the business. He was inducted into the National Fastpitch Coaches Association Hall of fame in 1996 and since then his teams have a record of 128-9, so success didn't exactly swell his head.

Every softball coaching superlative at Arizona belongs to Candrea. Some are near unassailable streaks. In 1998 for the first time in its history, Arizona was undefeated on the road during the regular season -- 31-0. In 1997 for the first time in its history, Arizona was undefeated at home -- 30-0.

Candrea (Arizona State '78) was selected Pacific-10 Conference Coach of the Year in 1998, the fifth time he has been so honored in a league which each year includes outstanding performances by head coaches. Last season the conference placed six of eight teams in NCAA tournament play.

Candrea became the 10th Division I coach in history to win 600 games in 1997. Now he's a couple shy of 700.

Always, the bottom line -- contending for championships. Candrea has taken his teams to the Women's College World Series for 11 consecutive seasons.

It's obvious the guy can recruit quality players and induce them to play to their potential. To underscore that one, in his tenure his players have earned 40 All-America playing honors, plus six Academic All-America honors. Motivator. Coach. Technician. Leader.

He is the winningest active and all-time Division I coach by percentage, and maybe a year or two away of the top five by total victories. Put his five NCAA and five Pac-10 championships against any coach's mark in any sport and he's right up there. UA won national championships in 1991, 1993, 1994, 1996 and 1997. Take away the 'vacated' title by a program later impugned for cheating, and he's won five of the last seven available championships. His team was runnerup in that disputed year and also in the other two "off" seasons, 1992 -- when the Cats were 58-7 -- and in 1998 at 67-4.

His teams' victory total last year, plus 66 victories in 1994 and 64 victories in 1995 and this year are the top three in the NCAA record books.

Including a five-season stint as a junior college coach at Central Arizona, the guy has a career record of 879-212. Eight of 10 is pretty good stuff when it comes to winning.

In 1994, 1996 and 1997 when his team won it all, Candrea was named Speedline/NFCA National Coach of the Year. He's a chance to be chosen every year, for no one in America has put more championship hardware on the walls of his or her office within the same time period.

Many have taken note. In all, during his 12 seasons at Arizona he has earned 13 conference, regional or national Coach of the Year awards.

The reason is simple -- Arizona wins softball games, lots of them. Early season, mid-season, post-season, you name it. The reasons that happens are good coaching and good talent.

Such national proficiency started at Arizona with the hiring of Candrea prior to the 1986 season, the school's first season in the Pacific-10 Conference. UA finished 27-13-1 that first year, his "worst" record to date. The following year, 1987, the Cats were 42-18 and qualified for their first of 11 consecutive NCAA appearances.

Those early years marked the upswing in Candrea's recruiting skill at the Division I level and by 1988 the team turned in a 54-18 record and made it to the College World Series for the first time and recorded two Series victories. Pitcher Teresa Cherry became Candrea's first UA All-American.

Afterward came more of the same in the ensuing two years -- UA finished 48-19 in 1989 and 49-17 in 1990, placed third and second in the tough Pac-10, and acquitted itself well but still came up short in CWS play.

The bigger picture jelled in 1991 when things looked somewhat bleak as the Cats finished 11-9 in conference play -- tied for his worst such record -- for fourth place. When push came to shove, though, UA swept Arizona State in NCAA Regional play in Tempe, then played five games pivotal to the history of Arizona softball, at Oklahoma City in the College World Series. Candrea and the Cats earned their first national championship, beating UCLA 5-1 in the title game.

The program was off and running. Certainly no team can claim more productivity in the 1990s -- five NCAA championships (1991, 1993, 1994, 1996, 1997), five league championships (1992, 1994, 1995, 1997, 1998) and a '90s winning record of 523-75, a percentage of .875. Four times Candrea's teams won more than 60 games in a season.

Candrea, 42, has built Arizona's program into a perennial contender. Top college softball coaches consistently win games but only a handful ever have won a national title, much less titles in the plural. Only five different coaches (among a current total of 195 Division I programs) ever have led a team to the NCAA title. After 13 full seasons and 837 Division I games as coach of the Wildcats, Candrea has won 83 percent of his games (694-143) for a typical annual won-loss record of 53-11.

That winning percentage is No. 1 among winningest active coaches, and no active coach with the same length of tenure has won more games. He is in the top 12 All-Time in Division I coaching victories. All this in the rugged softball atmosphere of the Pac-10. The conference is so tough that Candrea winning a league title (5) is as rare as winning a national championship.

Candrea knows you don't win games without players, so he gets the finest ones he can find, and coaches them to be the best. A succession of top-level players -- sluggers, hitters, dominant pitchers, Olympians -- has kept Arizona at the top.

For five consecutive years, at least five of Candrea's players earned All-America honors in voting by the coaches association. Four times it was six players -- the only times that many players from one team have been picked. In 1994, 1995 and 1998 the six selections all were first-team All-Americans. In 1997 all five Arizona honorees were first-team players.

In 1o of the past 11, Arizona players have been named to the NCAA All-College World Series team 39 times. That's good players playing at their best in the most clutch of all times -- playoffs.

For the past four years, he has coached three Academic All-Americans -- Leah O'Brien (first-team in 1994, 1995 and 1997), Jenny Dalton (first-team in 1996, second-team in 1995) and Nancy Evans (1998). Evans and the late Julie Reitan have joined the others in winning Academic All-Pac-10 several times. Such selections underscore Candrea's off-field emphasis and encouragement in the academic arena.

Pitcher Evans won the 1998 Honda Softball Award as college Player of the Year. Outfielder Alison Johnsen won the league's Player of the Year award for the second consecutive year. Formerly, Jenny Dalton in 1996, Laura Espinoza in 1995 and Susie Parra in 1994, won that league honor, and Parra and Dalton were Honda Award winners.

With outstanding media coverage forged by Candrea's style and success, obviously Arizona players are aware of some of the numbers they put up. But he won't post statistics and refuses to foster individual goals on his teams. His motto -- teams battle adversity and win games, not individuals. It helps to have 46 All-America honors for players during your tenure, but role players are just as important in winning the big prize -- the team championships.

Candrea is sought out by softball and baseball coaches around the country and has delivered instructional clinics throughout the nation. He is particularly known for hitting techniques, team fielding drills and squad motivational preparation. In recent years he has consulted with major league baseball stars such as Don Mattingly and Tony Gwynn in national hitting clinics and in the past year conducted or participated in dozens of such sessions to help improve the way softball is taught and played.

He has written several books and produced a number of videotapes on various softball subjects and has designed specific practice aids and equipment which are widely used at various levels of play.

But the bottom line is coaching teams on the field, and Candrea's statistics speak for themselves -- the 13-year record of 694-143. Together with his five-year junior college coaching record, in 18 years as a head coach he has a record of 879-212 (.805).

He has a 59-17 record in NCAA games, taking his teams into postseason in all but his first year in Tucson, and has a 36-13 record at the College World Series in 11 trips.

His teams' style of play, public comportment and the consistent winning puts Wildcat fans in the stands at Rita Hillenbrand Memorial Stadium. Last year the Wildcats drew 27,299 fans, had nine crowds in excess of 1,500 and set an attendance record with an average of 1,592 per date. Arizona is among national leaders in home attendance (and led by averaging 1,486 per game in 1995 and 1,316 per game in 1994.

Candrea spent 1981-85 coaching Central Arizona College and his team won consecutive NJCAA World Series in his final two seasons, earning him national coach the year honors each time. Prior to coaching softball, he was a Central assistant baseball coach from 1976-80.

He played baseball at Central but his career was cut short by an elbow injury. He earned an associate degree at Central in 1975, a bachelor's degree at Arizona State in 1978 and a master's degree from ASU in 1980.

Candrea, and his wife, Sue, a corporate accountant, reside in the Casa Grande area 70 miles north of Tucson. They have two children -- son Mikel, 19, a UA freshman, and daughter Michelle, 17. He was born in New Orleans, La., on August 29, 1955. He is an avid golf enthusiast and UA football fan.