Rita Hillenbrand Memorial Stadium (Softball)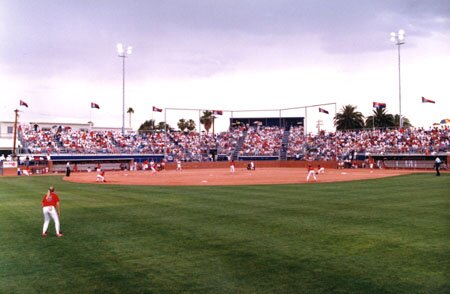 If playing in one's home stadium can be a strength, Arizona's record in its facility would be a simple example of the edge. The Wildcats have played to a 179-9 home record in Hillenbrand Stadium. That is a winning percentage of .952. Arizona fans enjoy Arizona softball no matter which opponent shows up --16 different teams have been witness to the 25 largest crowds in Hillenbrand Stadium. It is a facility the Wildcats find likeable -- in 1997 for the first time, UA was undefeated at home with a 30-0 record. Last year the Cats took a home winning streak to an NCAA-record 45 games before losing.

Hillenbrand Stadium and its success have been a national model for dynamic softball programs. As on-campus college softball facilities go, it and only a few others have elite status. But it has engendered much copying and today major universities around the country are moving to put their teams in facilities with style and substance, such as Hillenbrand.

Arizona's Hillenbrand maintains one special feature unlikely to be challenged any time soon - it has the best playing surface in the country. Tucson's climate and round-the-year maintenance keep the infield surface and outfield grass in top condition throughout the year.

The University of Arizona softball program moved into the facility six years ago, and went out and proved it was equal to the million-dollar trappings by winning two consecutive NCAA championships and leading the nation in attendance in 1994 and 1995. UA added another back-to-back NCAA title splurge in 1996 and 1997. The outfield fence is festooned with championship banners. UA also has won four Pac-10 titles since moving into Hillenbrand Stadium.

The Wildcats put together an 11-game winning streak the first year in the park before dropping a game to Northern Illinois. Since then, Arizona has had home winning streaks of 45. 28, 26, and 29 at home. Only seven teams have beaten Arizona in six years at Hillenbrand -- Fresno State in '96,Washington in '96/'98, UCLA in '93/'95, UNLV in '94, Northern Illinois in 1993, and Oklahoma and Texas Tech in '98.

Several games against Pac-10 rivals have been cablecast regionally or nationally by ESPN or Fox Sports and most games attract a solid contingent of fans, area television and print reporters. Most home games have been broadcast for four years by the UA student radio station.

Rita Hillenbrand Memorial Stadium is one of many Arizona athletic facilities supported by the Hillenbrand family. William G. Hillenbrand and his wife, Doby (Delores D.), financed the $1 million stadium and landscaping in memory of their late sister-in-law, Rita. More monies later provided the wrought iron fencing surrounding the park.

The family has provided tremendous support for the UA's aquatic center, baseball, Arizona's football program and general service to the athletic department through the John W. Hillenbrand Meeting Center. That facility includes a major auditorium which can be converted into smaller units, a half-dozen classrooms or meeting rooms, and office space for the Commitment for Athletes' Total Success.

Hillenbrand Stadium impresses players and visitors alike as a beautiful and functional ballpark. Clean line-of-sight views for all spectators, a world-class stabilizer-red infield surface, an oversized backstop, a pressbox, a 28-foot electronic scoreboard, recessed masonry dugouts, double-warmup bullpens, wheelchair access and seating areas, permanent six-foot outfield fence, permanent restroom and concession facilities under the grandstand, and a memorial entryway are among numerous features. All permanent seats in the park are chair- or plank-back and overflow seating in outfield bleachers put fans on all sides of the field.

During its inaugural season in 1993, Arizona surpassed the initial seating capacity and averaged 734 fans per game in 12 home dates. In 1994, the Wildcats led the nation in attendance with 1,316 fans per game. In 1995 UA led the nation with an average of 1,486. A record 2,890 watched the Cats play UCLA in March 1996 and that matchup also has drawn the Cats' other two top crowds. Arizona's annual attendance is quite close to the stadium's permanent seating capacity, listed at 2,000.